Clearwater Beach is a fun destination that offers a lot – beaches, restaurants, family activities, and a chance to unwind and relax under the Florida sun. The white sand beach and iconic turquoise waters of the gulf of Mexico will beckon you stay on its shores all day!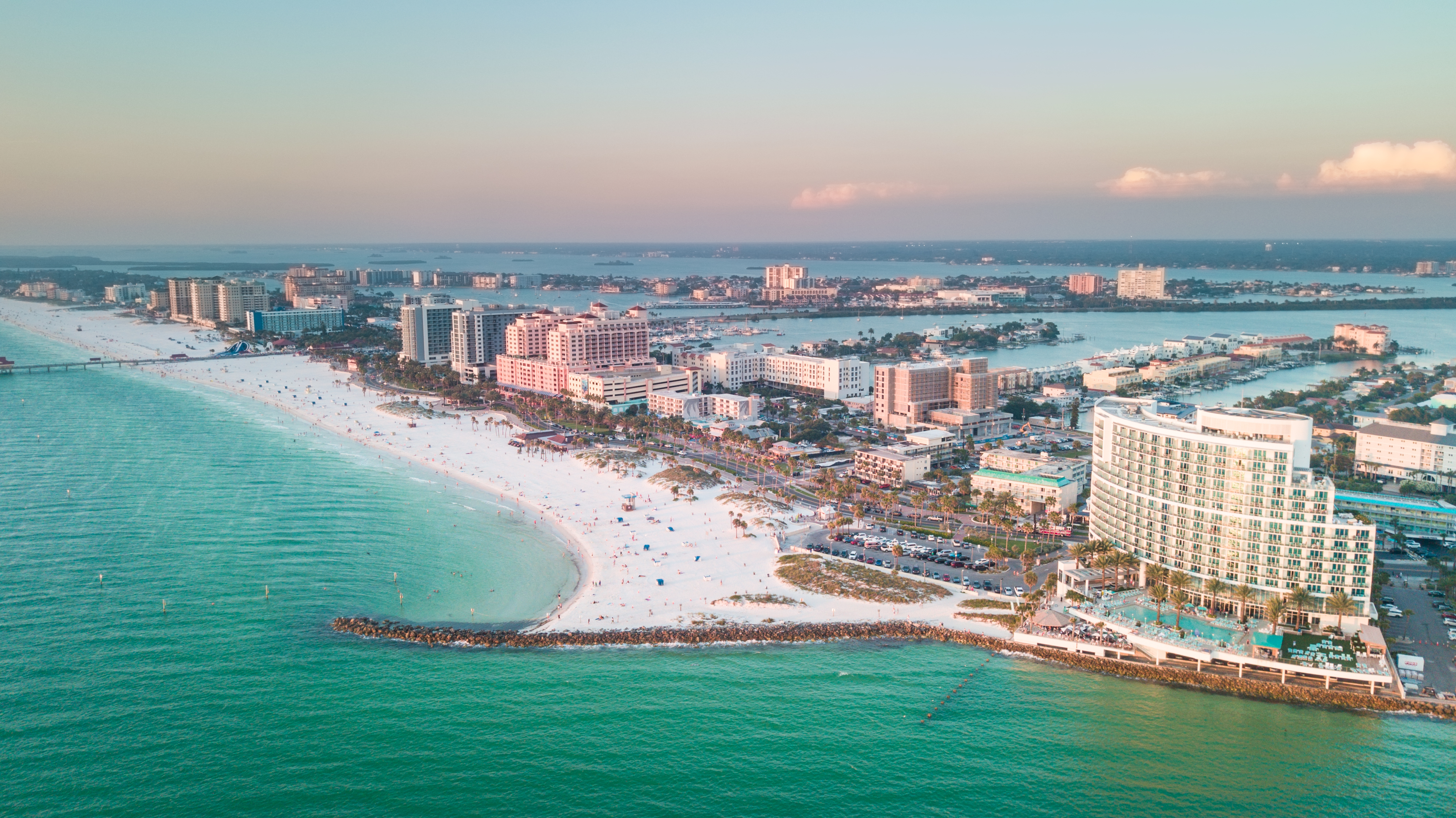 Clearwater is definitely a gem on Florida's west coast and is one of the state's most popular beaches. Filled with countless seafood restaurants, fine dining, water sports, local artisans, and plenty of wildlife (sea turtles, dolphins, anhinga) you won't want to miss out on a vacation to Clearwater beach.
Where can I stay?
Clearwater Beach has a plethora of great hotels to stay at, some walking distance from the beach! Enjoy the views of the Gulf of Mexico from your window or on private beaches just a few steps from your hotel. You may also want to explore vacation rentals if you are traveling with a large group or family. There are many great accommodation options available to everyone.
Hilton Clearwater Beach Resort & Spa
Book a stay at Hilton Clearwater Beach Resort & Spa and you're close to nighttime sunset events on Pier 60 and to the pedestrian-accessible beach walkway.
The Hilton is just steps away from the beach and a short drive away from the Clearwater Marine Aquarium. Relax under private cabanas or swim in the gorgeous outdoor pool. Take full advantage of their on-site spa to make the most out of your stay there.
Sandpearl Resort
Stay at Sandpearl Resort and relax at the beach-front firepits. Find comfort in their beautiful rooms decorated with coastal luxury. During the day, sit by the pool, go for a swim or take advantage of wave runners and parasailing right on site!
Opal Sands Resort
The Opal Sands Resort offers stunning views with every guest room, various dining venues, a spa, beachside pool, and fitness center.
Clearwater Beach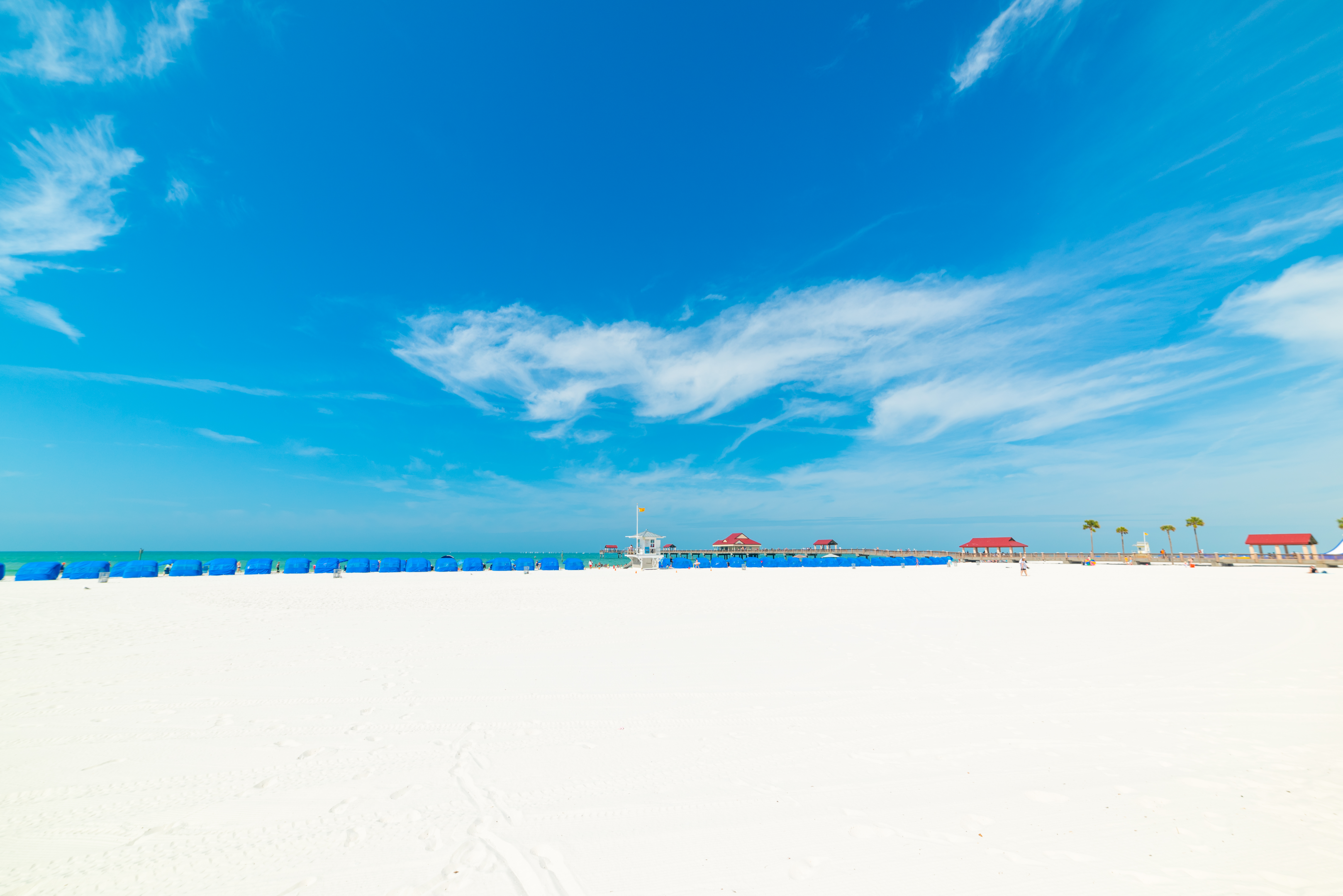 Award winning Clearwater Beach is a hot spot for couples and families alike, it even attracts the spring break crowd. With its sugar sands and sparkling waters it's no wonder that is one of the best beaches in Florida.
More Great Beaches To Visit
While Clearwater Beach is the heart of everything happening, there are other lovely parks close by that provide a hidden paradise. Explore 95 acres of long paths through salt marshes and sandy shorelines.
Sand Key Park
Sand Key Park is the place to go for an uncrowded and relaxing day at the beach. You'll find cabanas and beach chairs for rent, a kid's playground, bathhouses, and a dog park. For those with disabilities, the park also offers free beach wheelchairs, which are designed to roll a bit more easily in the sand.
Sand Key is both a park and a beach, offering double the fun for a day at the beach! Spend the morning at the beach, then head to the park area for lunch under one of two picnic shelters. After lunch, the kids can head to the playground while the adults clean up from lunch. Then head back to the beach for an afternoon of water fun, searching for ocean treasures, and building sandcastles.
Take a walk to the salt marsh before you leave, and sit on the benches, relaxing and birdwatching. Herons, anhingas, roseate spoonbills, and great horned owls all call Sand Key Park home.
Honeymoon Island State Park
If you are looking for a secluded area then Honeymoon island state park is the place to be. It has four miles of beach and is the ideal place for bird watching. Hike the trail among the slash pine forest and spot even more wildlife.
Caladesi Island State Park
From Honeymoon Island you can take the ferry to Caladesi Island State Park. This special island is practically untouched, mostly because you have to take a boat to get there.
Explore the waters around this beautiful island by kayak. Either bring your own or there are kayak rentals on the island.
Clearwater Beach Attractions
Visit Clearwater Marine Aquarium
No visit to Clearwater Beach would be complete without visiting the Clearwater Marine Aquarium. Fans of the movie Dolphin Tale can get up close and personal with the famous dolphin, Winter, featured in the movie.
The center was established to help rehabilitate injured marine life and release them back to their natural habitats . They also offer permanent homes for them if they are unable to return to the wild. A trip to the aquarium is a great way to spend the day if you're looking for a family friendly activity or something for animal lovers!
Pier 60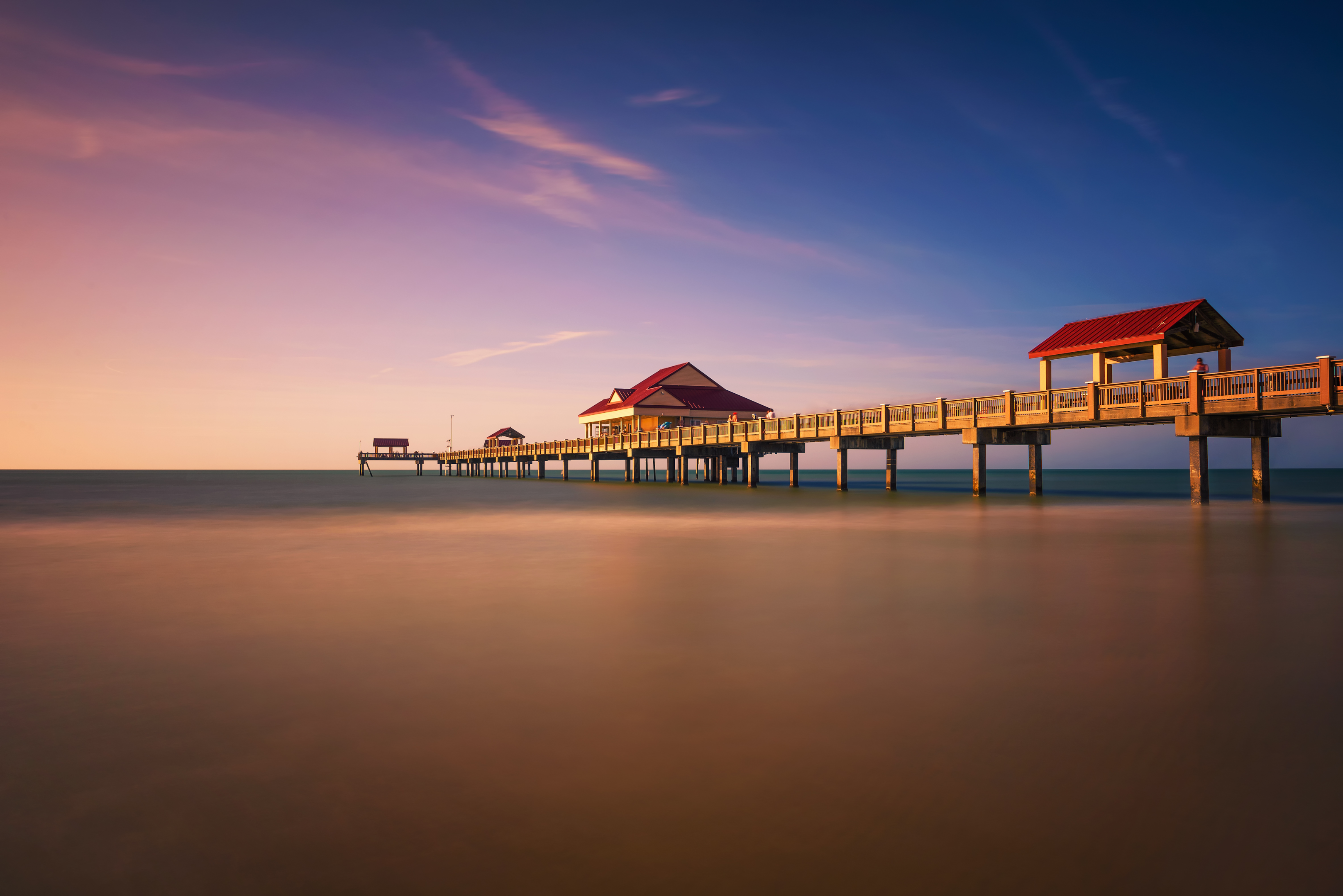 One of Clearwater beach's main attractions is Pier 60. Pier 60 extends into the Gulf of Mexico and is ideal for sightseeing and fishing. If you get there and decide to go fishing, but realize you've forgotten your gear-no worries! There is a bait and tackle shop that sells everything you need to hook your next big catch.
Pier 60 also has a daily festival that runs all year. Currently, it runs from 5:30 to 9:30 so that visitors can enjoy the sites before and after sunset. Many visitors come to see the performers and browse the crafts artisans are selling.
Purchase hand-made crafts and watch musicians, fire performers, and other talents entertain until after the sun sets! Sunsets at Pier 60 provides fun for the whole family while simultaneously supporting the arts community.
Top Clearwater Beach Restaurants
Several Clearwater Beach restaurants are located along the beach or on the waterfront. This means you'll almost always get dinner with a view if you want it! Enjoy a romantic evening with a sunset meal and some wine or tropical cocktails.
Caretta On The Gulf
Situated right on the gulf of Mexico, inside the Sandpearl resort, Caretta on the Gulf is one of the restaurants you must visit while in Clearwater Beach. Indulge in fresh caught seafood, grilled steaks, and organic greens accompanied by a wonderful view of the water.
Bobby's Bistro and Wine Bar
Bobby's Bistro and Wine Bar is another favorite, offering both land and seafood with a California flare. Perfect for wine lovers, you can enjoy a bottle or glass with your meal for the perfect dinner.
Frenchy's Rockaway Grill
For casual, right on the beach, dining check out Frenchy's Rockaway Grill. It's open air concept allows you to feel the sea breeze right at your table. They offer fresh seafood, sandwiches and soups all with live music to accompany your meal. Frenchy's Rockaway Grill is the perfect place to have lunch after a morning relaxing on one of the top beaches in Florida!
The Bait House
The Bait House is one of the best seafood restaurants in Clearwater beach. Another location with a gorgeous view, this restaurant is located right on a dock on the water. Try their island fish tacos and their drunken shrimp. Relax all day while taking in the action of the boats on the water bringing in their next big catch!
Crabby's Dockside
Crabby's Dockside is a cozy restaurant with great food and a friendly staff. Look out over the turquoise water and enjoy coconut shrimp or calamari fried to perfection.
Clear Sky On Cleveland
Clear Sky On Cleveland is located in the historical Cleveland street district in downtown Clearwater. Its cuisine borrows from places all over the globe and they serve wonderful wine, as well as cocktails. Choose from an inside dining area or their garden room for true ambiance while you dine.
Best Beach Bars and Local Brews
There are many bars and waterfront spots that offer delicious drinks during your vacation to Clearwater Beach. These spots are a great way to spend the afternoon or top off your evening after laying out under the sun, enjoying the sugary sands.
Palm Pavilion
A great waterfront bar, Palm Pavilion is where all the Clearwater beach locals hang out. A casual and laid back venue, enjoy the sunset with one of their signature drinks.
Shephard's Tiki Beach Bar and Grill
If you're looking for a place to listen to great music Shephard's Tiki Beach Bar and Grill is the place to be. Walking distance from the beach , it looks out over the gulf and relax while sipping on one of their craft cocktails! It is a great venue to relax with friends all day and then take a cool dip in the water.
Tommy's Tiki Bar
Just steps away from the water, Tommy's Tiki Bar is exactly that- a tiki bar on the sand! Part of the Hilton Clearwater Resort and Spa, it's the perfect spot to grab a cocktail while relaxing on the white sand beach.
Jimmy's Crow's Nest
Located on top of Pier House 60, Jimmy's Crow's Nest gives you stunning views of the water, Pier 60, and, of course, the sunset! Grab your favorite tropical drink and settle in to watch the sun go down with your friends.
Clearwater beach is a hub for fun activities and tropical vibes. If you are ready for some sunshine, this is the place to be!